Todd Cantwell is a Absolute Moron
Is there an Ibrox public relations guy that tells incoming players just to disrespect Celtic to get the support on their side from the get go?
Todd Cantwell is either overdoing the pandering to the Ibrox support or is just an absolute idiot, probably both.
For starters grown men should not be doing silly dances for views and likes on Tik Tok that's just embarrassing.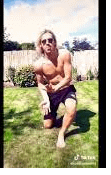 The quote "Celtic didn't win, we lost the game" after the defeat in his first Glasgow derby game was idiotic and was even called out as such by some in the Sevco support not to mention big Sutton also having a go.
His antics in his teams latest defeat by Celtic the Scottish cup was also embarrassing. One of the many times Tillman found himself lying on the ground and with the physios on the pitch Reo Hatate reached down for a bottle of water.
Cantwell lifts one of the bags carrying the drinks and throws it to the side of the pitch, out of Hatate's reach.
Reo went back to try again and even got a nod from Morelos that it's ok to have a drink, things are bad when you're that much of an idiot you make Alfredo Morelos look like a good guy.
A couple of times during the game he rallied the Rangers support waving his arms around, if he was playing good at that point it would've been more understandable but his main contribution was denying a fellow professional footballer a drink of water.
Early on in the second half Joe Hart saved a shot from Scot Arfield, Cantwell decided to have a wee kick out at Carter-Vickers. You could see the from the big mans reaction he wasn't too happy with the snide move by Todd and he let him know.
Could you imagine those two going toe to toe with each other? Todd would be lucky to be waking up in time for next season.
No Rangers player will ever be popular with us but you can tell Todd Cantwell is going to be one of the most disliked